Remodel Your Home for Free With Home Makeover Sweepstakes
Your home is your sanctuary, the place you go to get away from the outside world. Wouldn't it be amazing to make it absolutely luxurious? If you'd like to surround yourself with beautiful furnishings, heated bathroom tiles, and high-tech appliances without breaking your budget, home makeover sweepstakes can help you win those things and more
Why Enter Home Makeover Sweepstakes?
If you own a home, there's always something you want to add, replace, or update. Renovations not only make your life more enjoyable, but they also give you more financial stability by increasing the value of your home. Ironically, though, your finances might be holding you back from making those changes.
How can you afford to remodel when your eyes are bigger than your budget? Simple. Use sweepstakes to win prizes you can use for your home makeover. Here's how.
Remodeling on a Budget: Win Your Way to a Luxurious Home
Sweepstakes give you the chance to make your dreams for your home come true, even on a shoestring budget. Sweepstakes prizes can help you update the appliances in your kitchen, get that whirlpool bathtub you've always dreamed of, finish that basement, install a swimming pool, upgrade your furniture, build a (wo)man cave, and much more.
Of course, you're not guaranteed to win. Sweepstakes aren't a surefire way to remodel your home, and they'll never replace your full-time job. But entering is a fun way to spend extra time, and you get the chance of winning prizes that will make a big difference in what you can afford to change and replace.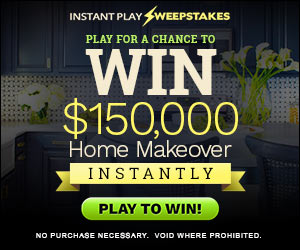 How to Start Winning Home Sweepstakes
If you're new to entering contests and sweepstakes, brush up on the basics before diving in. You can find out how to enter online sweepstakes and learn some smart strategies for improving your odds of winning. Plus, be sure to check out the warning signs of sweepstakes scams to protect yourself on your road to winning.
Once you have a plan for how and when to enter sweepstakes, you'll want to narrow down your options to concentrate on prizes that will help you remodel your home.
The obvious place to start is with our House and Garden Sweepstakes List. There, you'll find current sweepstakes offering prizes for your house and its surroundings. Prizes include appliances, grills, room makeovers, consultations with designers, free landscaping, and more. Occasionally, you'll even find entire houses to win, such as the HGTV Dream Home Giveaway.
Once you've worked your way through the Home and Garden Sweepstakes, try the Cash Sweepstakes List. Winning cash prizes gives you extra money to fund your dream renovations. This list makes it easy to find those prizes.
Next, check out the list of Gift Cards and Shopping Sprees to Win. The Gift Card Sweepstakes List often includes chances to win prizes from Lowe's, Home Depot, and other home improvement stores, plus shopping sprees for bedding, paint, home decor, and more. Here, you'll find prizes to lower the cost of making your house look great.
Another great place to find giveaways to help you remodel your home on a shoestring budget is the Magazine Sweepstakes List. Magazines often give away home decor and house renovation prizes, many of which won't be found on the other lists.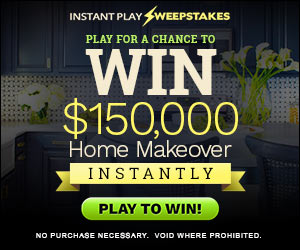 What to Do When You Win
If you're new to the sweepstakes hobby, it's not only important to know how to enter and to find giveaways you want to win. You also need to be prepared for what happens when your name is finally drawn.
So take the time to read about What to Expect When You Win Giveaways. This will help you avoid overlooking prize notifications and prepare you for the hoops you might need to jump through to claim your prizes.
Finally, if you're in the United States, take a moment to read up on sweepstakes taxes. This will teach you what you need to keep track of at tax time and also help you evaluate which prizes are worth entering to win. If you're outside of the U.S. research the tax laws in your own area for this information.
By concentrating on home and garden sweepstakes, you can increase your chances of winning prizes that help you make your house a joy to live in for you and your family.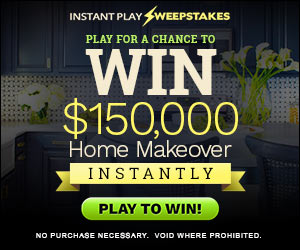 What's Your Reaction?